Coronavirus live news: Hong Kong authorises Sinovac vaccine for childr…
Thousands of people have marched in "freedom" rallies in Melbourne, Sydney, Brisbane, Perth and Adelaide, with the largest crowds in the Victorian capital as protests against the state government's pandemic legislation ramped up again.
Protesters marched from Victoria's state parliament, down Bourke Street and up to Flagstaff Gardens, carrying Australian flags and placards bearing anti-vaccination, anti-lockdown and anti-government slogans, while chanting "kill the bill", "sack Dan Andrews" and "Aussie, Aussie, Aussie, oi, oi, oi".
The rally drew a meaningful increase in numbers following weeks of protests against the Victorian premier's public health and wellbeing (pandemic management) bill 2021, which before came to a head last weekend, when thousands of people marched by central Melbourne in a demonstration that included a prop gallows, protesters posing with nooses, and chants of "hang Dan Andrews".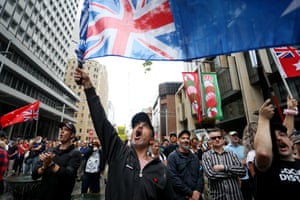 The bill as introduced by the Victorian government would allow the premier to make an indefinite declaration of a pandemic and state of emergency, give the health minister strength to make general public health orders, and grant authorised officers the strength to detain people under quarantine.
The Victorian premier, Daniel Andrews, has been racing to pass the pandemic legislation before the state of emergency is due to lapse on 15 December.
If the bill fails to pass, the Victorian government may not have the legal framework to enforce and create Covid-19 orders to manage the pandemic. The bill has been criticised by the Law Institute of Victoria, the Victorian Bar Association, and the Human Rights Law Centre, who say it lacks oversight and transparency.
In Sydney on Saturday, several thousand protesters also marched by the CBD.
The sound of bagpipes echoed by York Street as a man dressed in white screamed "destroy the new world order" and others chanted "walk with us".
A Sydney demonstrator carried a "kill the bill" sign, despite there being no such bill in NSW, while others waved Australian flags.
The complete story is here:
Click: See details